Fibre optic cables are becoming increasingly popular as part of networks, and so are fibre patch cords. With the ability to transfer large amounts of data, these cables are ideal for use in businesses and at home.
They have various applications our society takes advantage of, such as medical imaging, telephone lines and mechanical engineering, to name a few. However, their typical appearance within the modern world doesn't mean people know about them.
What is a fibre optic patch cord, and how can it support your network? Which cable do you need? What impact does it have on your network?
We delve into fibre patch cords and how they can support your business.
What are Fibre Patch Cords?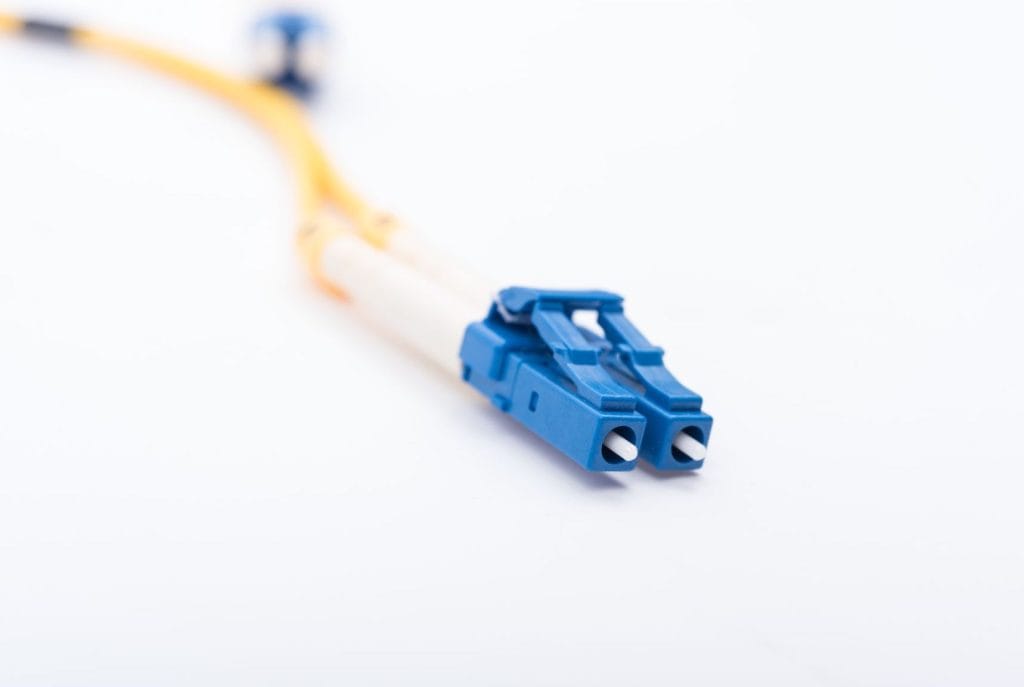 The fibre patch cord has numerous names, including but not limited to the fibre jumper and fibre patch cable. It is a cable with fibre optic connectors at each end, such as the LC and ST connectors.
The connectors enable the cable to attach to different equipment, such as telecommunications or computer equipment like the optical switch. The specific connector you need will depend on your circumstances.
Fibre patch cords are suited for indoor use. Several variations exist, enabling you to find the ideal cable for your equipment and needs. They are instrumental when copper cables are unsuitable for that situation.
What are the advantages of Fibre Patch Cords?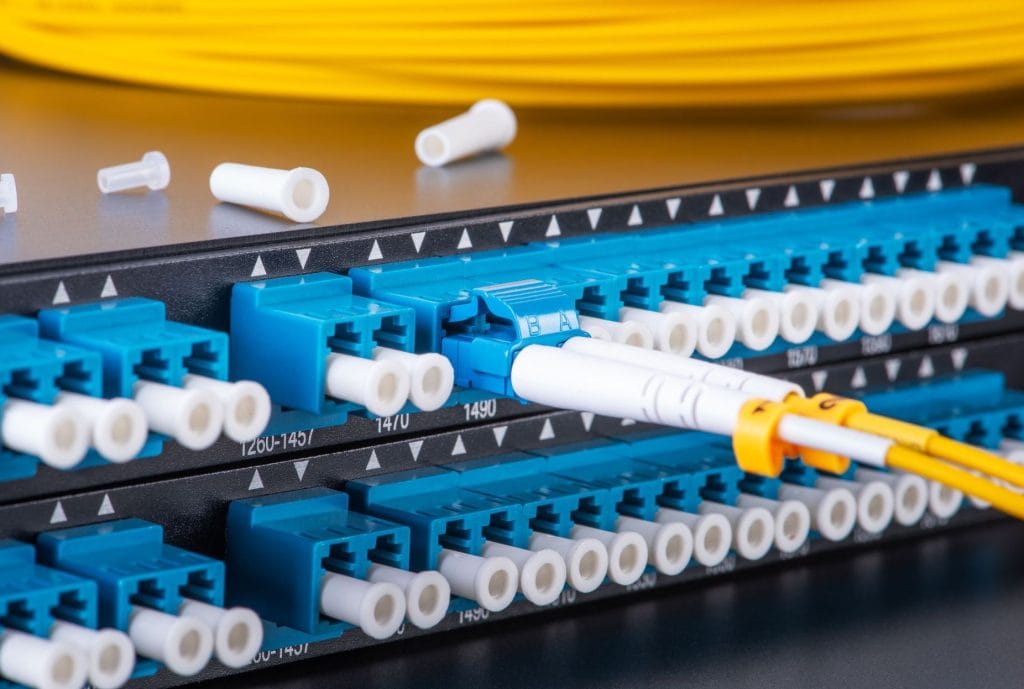 Your business can benefit from the numerous advantages fibre jumpers have. Some of these can impact the productivity of your staff.
For example, they offer a faster transmission speed than their copper counterparts, with single-mode fibres capable of reaching up to 400Gbps. Another type of this cable, the OM4 fibre patch cord, can go to 100Gbps.
Fibre patch cords can also transmit data over greater distances, making them ideal for transferring data between equipment not next to each other. Specifically, multimode fibres can operate over distances up to 2km, and single-mode cables can reach up to 160km in ideal circumstances.
Four times smaller than copper cables, fibre patch cables are tiny, which means they take up less space within your workplace and have less risk of being in the way of equipment or people.
What are the different types of Fibre Patch Cords?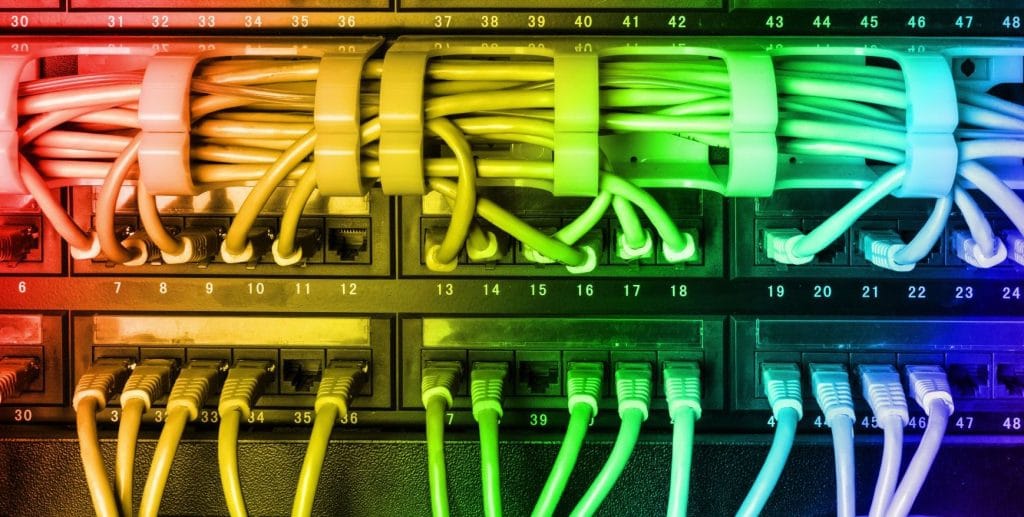 Finding your perfect patch cord can take time, especially if you don't know which one you need.
If you already have a cable, you can use patch cord colour coding to help establish the type. For example, an orange jacket on the cord can indicate a multimode patch cord, whereas a single-mode cable may be yellow. Please note these are not the only colours available.
Here we break down different types of fibre patch cords so you can identify which one you need.
1. OM1
Originally made in 1989, you can usually find the OM1 Fibre Patch Cord in LAN applications because of their use in legacy 1000Base networks. Legacy systems currently use these patch cords.
OM1 fibre jumpers have a 62.5-micron fibre core diameter. Altimex OM1 fibre optic patch cords also have a grey LSZH (Low Smoke Zero Halogen) cable jacket, though you can request a different colour.
You can purchase most lengths from stock, and they can be made to meet your requirements if necessary.
One type is the OM1 62.5/125 LC-LC Duplex Fibre Optic Patch Cord, an LC-LC patch cord, though OM1 cables are available with different connectors.
2. OM2
Altimex's OM2 Fibre Patch Cords typically have orange LSZH cable jackets, though you can request a different colour.
10Gb/s networks operating over short distances and 1Gb/s networks over longer distances commonly use them. Again, these networks have LAN applications. OM2 patch cords are also compatible with Gigabit Ethernet applications.
OM2 patch cable fibre cores have a diameter of 50-micron. This patch cable usually uses an LED light source.
Our OM2 50/125 ST-ST Duplex Patch Cord has a 900µm tight buffer and uses straight tip (ST) connectors. It is a duplex patch cord with two plastic or glass strands and one connector.
3. OM3
This patch cord has an aqua LSZH cable jacket and a 50-micron multimode fibre diameter. The OM3 Fibre Patch Cord is optimised to use with 850nm vertical cavity surface emitting lasers (VCSELS). You can also use them with higher-performance OM4 systems.
You can use this cord for both 1 Gb/s and 10 Gb/s applications and those with higher bandwidths. These high bandwidths use the OM3 cord over a shorter distance.
Altimex offers the OM3 50/125 SC-SC Duplex Patch Cord, which can be used for storage area networks and data centres, to name a few. You can request this SC-SC patch cord in varying colours, lengths and cable types.
4. OM4
The OM4 Fibre Patch Cord is optimised to use with 850nm VCSELS and has a 50-micron multimode fibre.
Applications include 10 Gb/s, 40 Gb/s and 100 Gb/s, and the cables are backwards compatible with OM3 systems. The patch cord offers a cost-effective solution for situations needing higher performance. They also come with an aqua LSZH cable jacket.
Some OM4 cords are ST to ST patch cords, such as the OM4 50/125 ST-ST Duplex Patch Cord, and use straight tip (ST) connectors. However, other connectors are available.
5. OM5
OM5 Fibre Patch Cords are used with 850-950nm VCSELS and are for circumstances where you need high bandwidth over short or medium distances. In particular, you can use them for 10 Gb/s, 40 Gb/s and 100 Gb/s applications.
This patch cord comes with a lime green LSZH cable jacket and is the first Wide Band Multimode Fibre (WBMF). 
The OM5 50/125 ST-ST Duplex Multimode Patch Cord is a duplex patch cord utilised in various situations, including for data centres.
6. OS2
For those needing fibre patch cords over greater distances, the OS2 Fibre Patch Cord can operate between campuses and buildings and for long-distance access and metropolitan networks.
OS2 cables have a yellow LSZH cable jacket, though other colours are available. It can have various connectors and lengths.
Altimex's OS2 9/125 LC-LC Simplex Fibre Optic Patch Cord, like their other patch cords, is tested before delivery.
Fibre patch cords can be an essential part of your network but are not the only cable available.
Altimex offers various fibre optic solutions, including those for data centres, bulk fibre and multi-fibre assemblies, to name a few, that you can use within your network to achieve the best results.
Look at how we can support you with your fibre optic needs today!